Banquet in Stringwater! By Jason Mills
A Solo Adventure for Tunnels & Trolls.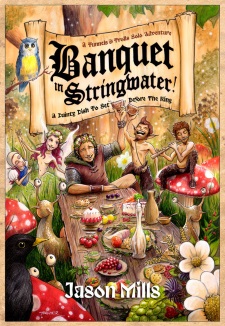 In Stringwater the birthday of King Wilf is celebrated with a great feast. It is a high honour to have oneís dish served as the main course. The banquet is tomorrow, but today is the contest to find the best forager-chef!
You and a dozen other finalists must enter and explore the enchanted woodlands of the Royal Park. Whatever adventures unfold therein, you must emerge at the end of the day with game and garnish to cook for His Majesty. You will need all manner of skills to deal with the myriad situations you encounter, and to create a glorious repast fit for a King! How better to spend a summerís day?
Banquet In Stringwater! is a sprawling light-hearted solo adventure for all editions of Tunnels & Trolls. The contest is open to characters of all types up to level 4, though the Kingís rules permit only a select list of spells.
The solo features a magical cover by Simon Tranter and is fabulously illustrated throughout by Jeff Freels. The open environment that fills its 132 pages is packed with variety and surprises, so that every play-through is fresh and different.
Banquet In Stringwater! is a must-have for any T&T collection.
Jeff Freels'
Transplant Fund.
All the proceeds from sales of this module will go to our great friend and brilliant artist Jeff Freels. Jeff is coping with the medical and financial consequences of a kidney transplant, and we want to help him as much as we can. By buying this product, you will be helping too.